Welcome to Davy Byrnes literary, heritage and cosmopolitan pub! This old hostelry has been serving the citizenry of Dublin and beyond since 1798 when the winds of insurgency were sweeping across Western Europe. Today Davy Byrnes stands steadfast as a social icon of stability, consistency and renowned hospitality within a world defined once again by revolutionary economic and political change. Davy Byrnes Pub has seen it all before and we prefer to concentrate on our tradition of excellence in serving our extensive local and international clientele with quality food and drink within an ambience of unrivaled hospitality and charm.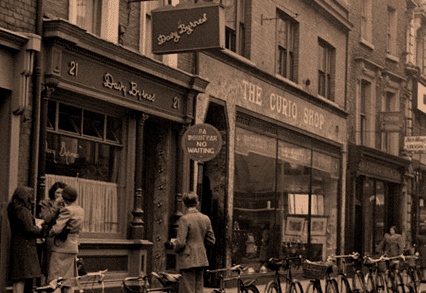 Our Past
There has been a licence on this site since Michael Deering arrived here in 1798. On January 11th 1889 abstemious Wicklow publican Davy Byrne acquired this gem of antiquity when paying some £2,300 by bank sale. Davy was a quiet, industrious, committed publican whose only other passion lay in following the constitutional nationalist ideology of 'Ireland's Uncrowned King' Charles Stewart Parnell and latterly the Redmondite political tradition.

Character & Ambience
Similar to London's most renowned hostelries, Davy Byrnes has a continuous patronage as, throughout the day, each wave of committed regulars are replaced by another. By night time this is a buzzing, chatty and convivial haven of character, affability and authentic ambience.
Enjoying an umbilical-like association with Irish sport, particularly rugby and horse racing, Davy Byrnes is a invigorating place to be in on big match days. The atmosphere here is electric as the banter, the craic, the passion and the tension of the game is vividly captured and recounted. Amid this collaborative setting of comraderie, sporting rivalries are cast aside and new friendships born. So remember, if you haven't got a ticket for the big game or the concert at the Aviva Stadium or Croke Park, your only choice is Davy Byrnes!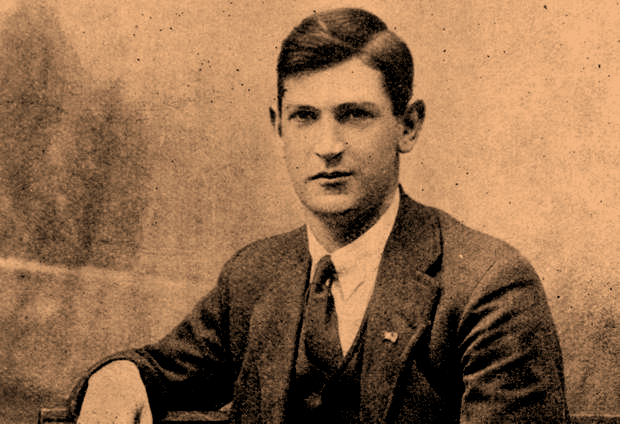 The Collins Connection
Davy Byrne's nationalist leanings attracted many of the leading figures involved in Ireland's War of Independence (1918 – 21). Accredited historical research has uncovered that the upstairs room became a frequent impromptu meeting place of the Irish cabinet, elected by the First Dail in 1919. As the British government had declared the First Dail to be a dangerous, unlawful association, and in prohibiting public assembly, all meetings were held in secret – sometimes at very short notice. Michael Collins, who had a heavy price on his head, was a frequent visitor to Davy Byrnes during this period as was Arthur Griffith and Cathal Brugha.

Hospitality & The Gastro Pub
Renowned for decades as the home of the Irish Coffee and Dublin's finest cocktail, Davy Byrnes is today establishing a niche attraction in Dublin's social scene by tailoring its products to meet contemporary social demand. Offering a commendable and comprehensive wine menu Davy Byrnes additionally provides an extensive choice of world beers, Irish craft beers and a refined collection of Irish whiskeys.
Famous for its Guinness and oysters, Davy Byrnes is Dublin's original gastro pub in that it consistently offers a most innovative selection of Irish seafood. Showcasing a creative adaptation of quality barfood, Davy Byrnes achieves a pleasant culinary balance in fusing traditional and contemporary tastes. All the standard bearers are here; steak; seafood and Irish stew are presented with a twist of creative contemporary flair.
And don't forget: Leopold Bloom's Gorgonzola sandwich and a glass of burgundy are house favourites in Davy Byrnes since 1904!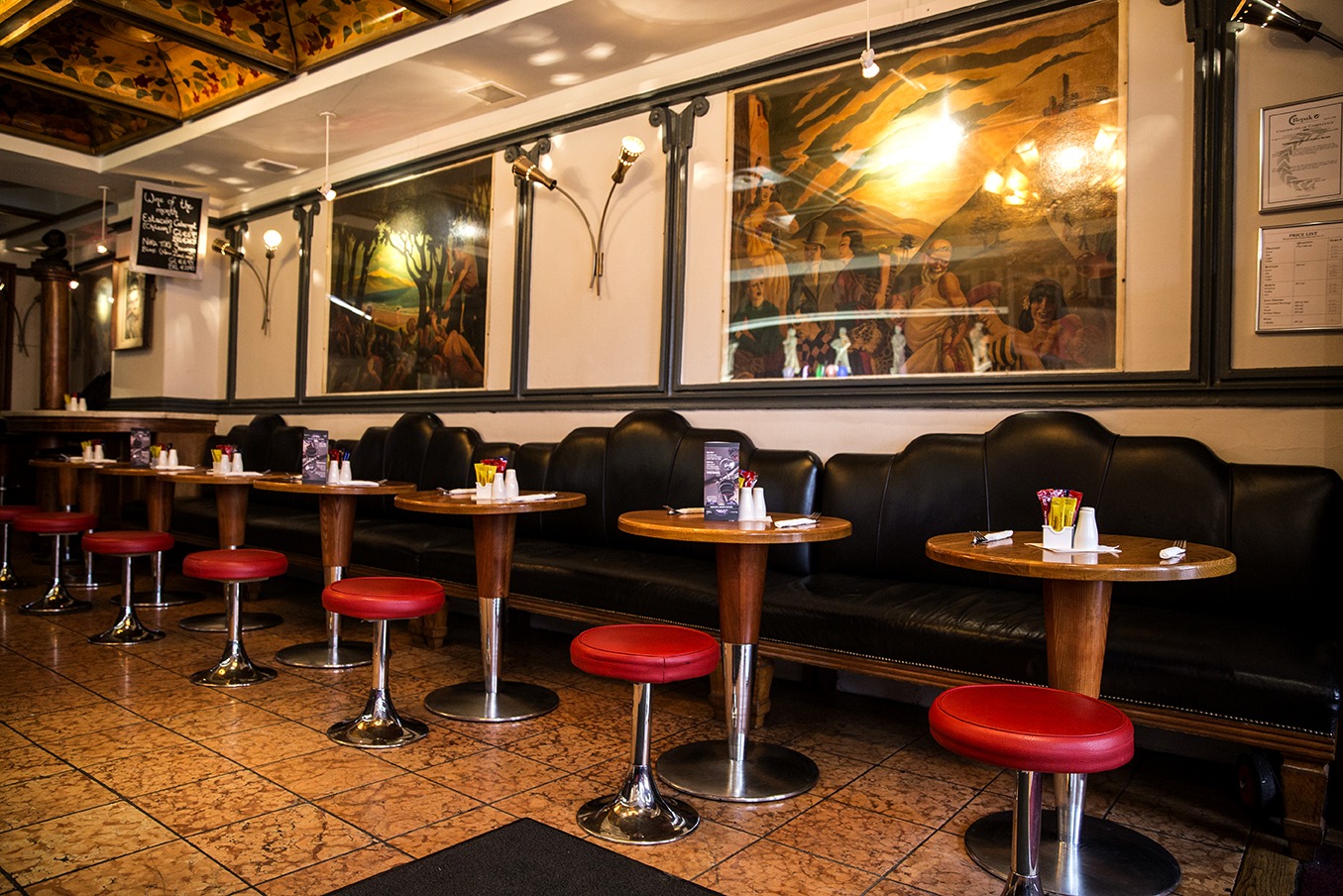 The Art Deco Pub
The Doran family arrived here in 1942 and transformed Davy Byrnes into one of Dublin's most refined and popular cocktail bars during World War 2. Unique amongst Dublin's pubs, Davy Byrnes architectural creation is Art Deco in design drawing its inspiration from the pre-second world war period that was so much in vogue in Left Bank Paris. While the interior is decidedly art deco and cosmopolitan in ethos, the traditional qualities of the Dublin pub shine through in abundance. Come along mid-mornings when it's quieter and see this shrine of cultural antiquity at its best! Take note of the priceless frescos along the wall; the educational murals of Joycean Dublin by Liam Proud; the murals of Cecil French Salkeld, (Brendan Behan's father-in-law) which date back to the 1940's! While you're here peruse the splendid sculptures of Eddie Delaney and John Behan!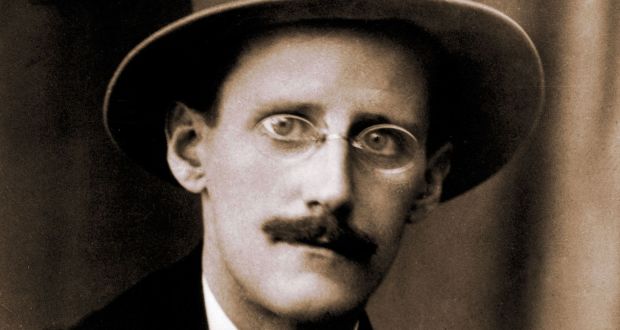 The Literary Connection
An unsuspecting Davy Byrne was cast into literary fame on Bloomsday 1904 when James Joyce immortalised him in the Lestrygonians chapter of Ulysses. On that day Leopold Bloom consumed his Gorgonzola sandwich and glass of burgundy in the pub. Generations of Joycean scholars have ever since retraced the steps of Leopold Bloom in paying literary homage to Davy Byrnes and while Davy Byrnes occupies the social centre of Joycean Dublin the literary fame of this oasis of longevity had, through the decades, found favour with illuminati such as Myles, Kavanagh, Behan, Stephens, Cronin, Gogarty. That tradition continues today through Anne Enright, Claire Keegan and Sara Baume – all winners of the Davy Byrnes Short Story Award.