Dear Friends of Davy Byrnes
Due to the unprecedented events of the last few weeks we have closed Davy Byrnes for the safety of our staff and customers until further notice.
We extend our best wishes to everybody and look forward to welcoming you all back soon.
STAY SAFE!
All at Davy Byrnes
Sandwiches
Add soup or chips to any sandwich … €3.00
Toasted Special … €9.50
house cooked ham, cheddar cheese, onion and tomato on Roy's crusty bread (1,4,7,12)
Club Sandwich … €9.50
chips and coleslaw, chicken, bacon, lettuce, tomato, mayonnaise (1,4,7,12)
Open Smoked Salmon … €14.00
capers, red onion and crème fraiche (1,4,7,8)
Open Prawn … €15.00
marie rose and Guinness brown bread (1,4,7,5)
Open Goats Bridge BBQ Trout … €14.00
radicchio, lemon and trout roe (1,4,7,8)
BBQ Fillet Steak Sandwich … €16.00
with fried onions, little gem lettuce and buttermilk dressing (1,4,7)
Pub Classics
Slaney Valley Lamb Stew … €14.50
with Guinness brown bread (1,9)
Fresh Fish & Chips … €16.50
with tartar sauce and crushed peas (1,4,7,8)
Please see our boards for daily specials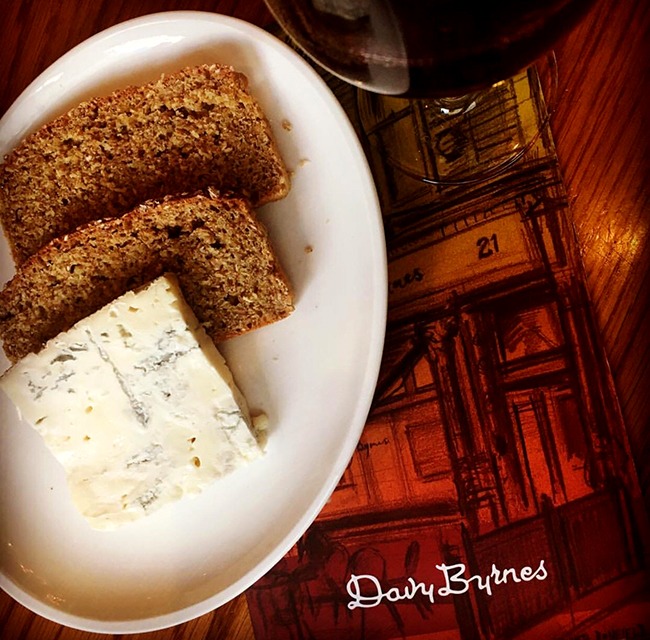 Starters
Soup Of The Day … €6.00
with brown soda bread (1,4,9)
Davy's Creamy Seafood Chowder … €9.50
cod, smoked haddock, trout, mussels and prawns (1,4,5,8,9)
Six Connemara Oysters … €16.00
cabernet sauvignon and shallot vinegar (6,13)
Atlantic Prawn Cocktail … €12.50
marie rose sauce, gem lettuce, vine cherry tomatoes (5,7,12)
BBQ Seatrout Salad … €10.00
violette potatoes, watercress, goats bridge trout caviar and mustard dressing (8,12)
Monkfish Scampi … €9.50
fried in semolina flour with lemon mayonnaise (1,7,8)
Spicy Chicken Wings … €9.50
with blue cheese dip (4,7,9)
Duck Liver Pate … €11.00
with spiced apple compote and grilled sourdough (4,7,1)
Hussey's Farm Beetroot Salad … €9.50
St. Tola goats curd, toasted walnuts, watercress, honey and mustard dressing (4,3,12)

Main Course
Chargrilled Dexter Beef Burger … €15.00
 with hand cut chips, tomato, lettuce, onion, cheese and pickle (1,4,7,13)
Loughnane Pork & Apple Sausage … €15.50
baked potato mash with roast onion gravy (1,4,9)
Bacon Chop & Cabbage … €14.50
baked potato mash with parsley sauce (1,4,13)
Roast Chicken Supreme … €16.50
baked potato mash, cheese, charred tender stem broccoli with chicken gravy (4,9)

Davy's Shared Seafood Platter … €46.00
oysters (6), bbq trout, prawns, smoked salmon, pickled mussels, crab claws with brown bread and butter (1,4,5,6,8)
Sides
Hand Cut Chips … €4.00
Baked Potato Mash … €4.00
Seasonal Vegetables … €4.00
Green Salad … €4.00
Cheese
Whole Baked Camembert … €12.00
with toasted sourdough (1,4)
Melted Gorgonzola Sandwich … €8.50
(1,4)
He entered Davy Byrne's. Moral Pub. He doesn't chat. Stands a drink now and then. But in leapyear once in four. Cashed a cheque for me once.

Dinner Menu
4pm – 10pm daily
Starters
Soup Of The Day … €6.00
with brown soda bread (1,4,9)
Davy's Creamy Seafood Chowder … €9.50
cod, smoked haddock, trout, mussels and prawns (1,4,5,8,9)
Atlantic Prawn Cocktail … €12.50
marie rose sauce, gem lettuce, vine cherry tomatoes (5,7,12)
Crab Claws … €15.00
in garlic butter with lemon and parsley (4,5)
Six Connemara Oysters … €15.00
cabernet sauvignon and shallot vinegar (6,13)
BBQ Seatrout Salad … €10.00
violette potatoes, watercress, goats bridge trout caviar and mustard dressing (8,12)
Monkfish Scampi … €9.50
fried in semolina flour with lemon mayonnaise (1,7,8)
Spicy Chicken Wings … €9.50
with blue cheese dip (4,7,9)
Duck Liver Pate … €11.00
with spiced apple compote and grilled sourdough (4,7,1)
Hussey's Farm Beetroot Salad … €9.50
St. Tola goats curd, toasted walnuts, watercress, honey and mustard dressing (4,3,12)

Main Course
Chargrilled Dexter Beef Burger… €15.00
with hand cut chips, tomato, lettuce, onion, cheese and pickle (1,4,7,13)
Dry Aged Ribeye … €29.00
hand cut chips, fried onions, watercress with garlic butter or peppercorn sauce (4)
Fresh Cod & Chips … €16.50
tartar sauce and crushed peas (1,4,7,8)
Killary Mussels … €18.00
white wine, garlic and cream with soda bread (1,4,8)
Loughnane Pork & Apple Sausage … €15.50
baked potato mash with roast onion gravy (1,4,9)
Bacon Chop & Cabbage … €14.50
baked potato mash with parsley sauce (1,4,13)
Roast Chicken Supreme … €16.50
baked potato mash, cheese, charred tender stem broccoli with chicken gravy (4,9)
Slaney Valley Lamb Stew … €14.50
with Guinness brown bread (1,9)

Davy's Shared Seafood Platter … €46.00
 oysters (6), bbq trout, prawns, smoked salmon, pickled mussels, crab claws with brown bread and butter (1,4,5,6,8)
Sides
Hand Cut Chips … €4.00
Baked Potato Mash … €4.00
Seasonal Vegetables … €4.00
Green Salad … €4.00
Cheese
Whole Baked Camembert … €12.00
with toasted sourdough (1,4)
Melted Gorgonzola Sandwich … €8.50
(1,4)

Wednesday
10.30am - 11.30pm
Thursday
10.30am - 11.30pm
Saturday
10.30am - 12.30am